The maintenance of kitchen worktops
The very first thing to be done in order to maintain and to protect any kitchen worktop is its proper impregnation. Our company carry out this procedure twice. The first time, after the production process and the second time during the mounting process.
Thanks to these treatments, a protective layer is formed, which by sealing minor pores, decreases the stone absorption. This prevents the dirt penetration into the stone and the discolouration of the stone. It is essential that the kitchen worktops should be impregnated at least once a year.
In order to impregnate a stone kitchen worktop properly, you should follow the following guidelines:
In the case of marble worktops, you should void applying any types of bleaches (sodium chlorines cause the stone discolouration);
In the case of marble worktops, using water is advisable. However, you should avoid using both destilled and mineral water (this may cause stone dark discolouration);
In the case of marble worktops, you should avoid using solutions with 5,5 pH level and use only those with a pH of 7.
Using washing liquid is a save solution provided that no trace amount of the liquid is left on the worktop. If anything hot is placed on the residues of liquid remained on the worktop, this may cause its permanent discolouration.
You should avoid any solutions containing acids, including phosphoric acids, citric acids, formic acids or hydrochloric acids. Applying such solutions to either marble or granite worktops makes the surface loose its lustre and original sheen. As a result, the worktop gets matt.
Window / furniture cleaners can be used but only the ones containing alcohol.
You must not use any oven cleaners either. They contain potassium lye and baking soda, which will cause a permanent damage to a stone surface.
You must not use: benzine, nail polish remover and the like (because of the same reasons mentioned above).
When impregnating stone kitchen worktops, you should solely use specialist products, carefully chosen for a specific kind of stone.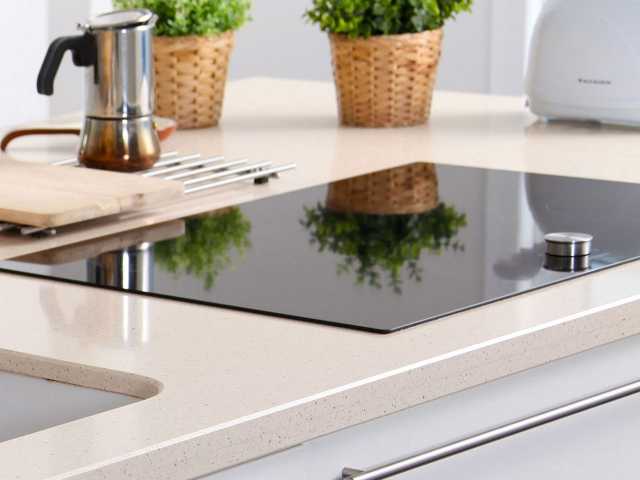 Czytaj również
"KRAK-STONE GRZESIKOWSCY" SPÓŁKA JAWNA
realizuje projekt dofinansowany
z Funduszy Europejskich
Wzmocnienie konkurencyjności przedsiębiorstwa "KRAK-STONE GRZESIKOWSCY" sp.j. poprzez opracowanie strategii wzorniczej dla nowych produktów
Kwarcyt to naturalny kamień, który dzięki swoim właściwościom znajduje szerokie zastosowanie w wykańczaniu i aranżacji wnętrz. Ma bardzo mocno zbitą strukturę, jest twardy, wytrzymały, odporny na zniszczenia i plamy. Te cechy sprawiają, że idealnie sprawdza się, jako materiał do wykonywania parapetów, blatów kuchennych, podłóg, a nawet obudowy kominków. Dodatkowo wizualnie przypomina marmur, więc każdemu wnętrzu doda elegancji i niepowtarzalnego stylu. Co jeszcze kryje się za popularnością kwarcytu?
Największą ozdobą onyksu jest jego barwa. Najpopularniejszy jest kolor czarny, złożony z występujących kolejnych warstw białej i czarnej, ale równie pięknie prezentuje się w kolorze zielonym. Nic dziwnego, że cieszy się on popularnością w branży jubilerskiej. Dzisiaj jest on wykorzystywany przez architektów i projektantów wnętrz. Ze względu na jego nieprzystosowanie do niekorzystnych warunków atmosferycznych, wykorzystuje się go do elementów dekoracyjnych wewnątrz budynku. Jego największą ozdobą jest to, że jego struktura pozwala na przepuszczanie i rozczepianie promieni światła, dlatego bardzo dobrze prezentuje się podświetlony. Dlatego często przed jego montażem pod spód kamienia, zakłada się stelaż ze źródłem światła. Pozwala to uzyskać niepowtarzalny efekt. Każda jego płyta ma unikalne ułożenie słojów.