Which is the best material for kitchen worktops?
Undoubtedly, granite is considered to be the best material for kitchen worktops. Its most characteristic feature is its exceptional durability. This stone will survive for many years without changing its appearance. It tolerates very high temperatures, it is resistant to scratches. The only material that may cause a damage to granite is a diamond. Moreover, it is not very absorbent. If properly impregnated, it will not absorb liquids very easily. It should also be noted that granite is resistant to any kinds of acids - wine, lemon etc. Obviously, to a limited extent - such substances cannot be left on any granite worktop for weeks.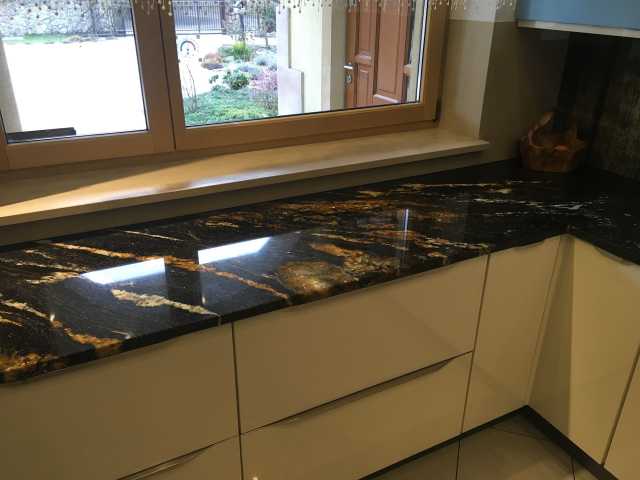 Man-made quartz conglomerates, on the other hand, are characterised by a 100% resistance to acids. They occur in homogeneous colours - in black, grey, beige and white. They are not liquid absorbent, so they do not have to be impregnated at all. Yet, conglomerates have a big drawback, which is their low resistance to high temperatures. Placing hot pots on such worktops should be particularly avoided, as they can get discoloured. Therefore, choosing artificial quartz conglomerates for kitchen worktops is at a Customer's risk.
A bit more expensive but of fantastic parameters is sintered quartz. This is a comparatively new material on the market. Like granite, it is scratch-resistant. Moreover, high temperatures pose no threat to sintered quartz worktops. Unfortunately, it has one basic disadvantage - it makes a "ringing" sound when you place anything on the surface of the worktop.
There is another kind of material suitable for kitchen worktops. Lapitec is the material created by a man. Lapitec is a composite stone, sintered into big stabs with the use of a very innovative method. Lapitec combines a variety of aesthetic values, big sizes and the durability with the properties and the texture characteristic for technical porcelain as well as with the ease of being treated, while retaining its elegant form and colouring. Lapitec is not a porous stone, so it is not liquid absorbent, which translates into its resistance to stains. Lapitec is free both of mould and of bacterias. Undoubtedly, another unquestionable asset of lapitec is its easy maintenance(with warm water and a soft cloth). As it is resistant to various atmospheric influences, basis, acids and a variety of solvents, Lapitec will stand the test of time. Besides, being a very hard material, it is resistant to any kind of mechanical activity, abrasion and at the same time it is frost-proof and absolutely insensitive to UV radiation. Incidentally, lapitec is resistant to graffity. These surfaces are absolutely graffiti-proof.
Marble, travertine, marble conglomerates, limestones or onyx are not suitable for kitchen worktops due to their high absorbency, their lack of resistance to acids, scratches and higher temperatures.
Czytaj również
"KRAK-STONE GRZESIKOWSCY" SPÓŁKA JAWNA
realizuje projekt dofinansowany
z Funduszy Europejskich
Wzmocnienie konkurencyjności przedsiębiorstwa "KRAK-STONE GRZESIKOWSCY" sp.j. poprzez opracowanie strategii wzorniczej dla nowych produktów
Kwarcyt to naturalny kamień, który dzięki swoim właściwościom znajduje szerokie zastosowanie w wykańczaniu i aranżacji wnętrz. Ma bardzo mocno zbitą strukturę, jest twardy, wytrzymały, odporny na zniszczenia i plamy. Te cechy sprawiają, że idealnie sprawdza się, jako materiał do wykonywania parapetów, blatów kuchennych, podłóg, a nawet obudowy kominków. Dodatkowo wizualnie przypomina marmur, więc każdemu wnętrzu doda elegancji i niepowtarzalnego stylu. Co jeszcze kryje się za popularnością kwarcytu?
Największą ozdobą onyksu jest jego barwa. Najpopularniejszy jest kolor czarny, złożony z występujących kolejnych warstw białej i czarnej, ale równie pięknie prezentuje się w kolorze zielonym. Nic dziwnego, że cieszy się on popularnością w branży jubilerskiej. Dzisiaj jest on wykorzystywany przez architektów i projektantów wnętrz. Ze względu na jego nieprzystosowanie do niekorzystnych warunków atmosferycznych, wykorzystuje się go do elementów dekoracyjnych wewnątrz budynku. Jego największą ozdobą jest to, że jego struktura pozwala na przepuszczanie i rozczepianie promieni światła, dlatego bardzo dobrze prezentuje się podświetlony. Dlatego często przed jego montażem pod spód kamienia, zakłada się stelaż ze źródłem światła. Pozwala to uzyskać niepowtarzalny efekt. Każda jego płyta ma unikalne ułożenie słojów.